Giving back to the community each year is a high priority for Premiere Dance. On Sunday, December 15 th , fifty of the Dynamics Dance Company Dancers, from Premiere Dance, performed parts of the Nutcracker, choreographed by Colleen Guy, at Assisted Living Homes. This is the third year that Premiere Dance has performed The Nutcracker at Assisted Livings, and this year is their second year performing at two locations.
The first performance was located at the Princeton Manor Clubhouse at 11:30 am in Kendall Park, followed by a performance at 2:30 PM at Avalon Assisted Living in Hillsborough. Miss Colleen and a few of the Senior Company members started with the opening and reading of the Nutcracker. The dances that followed included: Angels, performed by Pointe l & ll, Soldier's March-performed by the Junior Dance Company, Sugarplum Fairy-performed by Pointe lll, Polichinelles-performed by the Petite Dance Company, Cookie/Grandparents Dance-performed by the Junior Dance Company, Hot Chocolate from Spain-performed by the Teen Dance Company, Marzipan-performed by the Senior Dance Company.
Colleen Guy said, "Ballet and Nutcracker go hand and hand during the holiday season. I enjoy hearing the beautiful sound of the Sugar Plum Fairy playing in the stores. Growing up, I loved performing the Nutcracker with the Shore Ballet Company each year. My favorite shows were the daytime school performances because the audience would be so lively and cheerful. Many years later, I am grateful I get to provide my beautiful community with the same type of experience! The reactions we get during our performances is just like I remembered as a child. I joyfully share the Nutcracker with my Premiere family and two locations in our community. I love watching the students dance and seeing my own daughters enjoy this cherished ballet. A big thank you to all of my talented dancers and their parents volunteering their time!"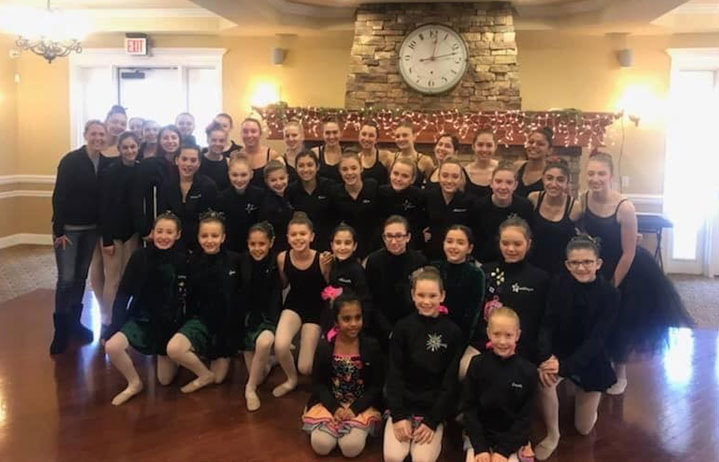 Michelle Cunningham, Studio Director, said, " For the third year in a row the dancers gave up their time on a weekend to brighten the day of those who needed it most. They continue to express themselves through the art of dance, focusing on the root of where it all began, Ballet. I am always in awe of their drive and determination as individuals but mostly as a team."
Premiere Dance looks forward to continuing this annual tradition and loves the joy it brings to everyone during the Holiday Season.
In October, Premiere Dance participated in the annual Pinnacle (formerly HRC Fitness) 5k raising money for GiGi's Playhouse Hillsborough and other local charities. Many of Premiere's dancers ran, walked, and came to support the cause. Premiere and Pinnacle raised $15,775.83 that went directly to The Quinn Family, Koll Team, JDH Team, and GiGi's Playhouse.
Premiere Dance is still accepting registration for their 2019-20 season. Premiere Dance provides a welcoming environment where students can build confidence, express creativity, make new friends, and stay fit —all while receiving a classical dance education. Each student will get the most out of their education. To do that, they offer five spacious studios equipped with professional-grade
equipment and a team of highly-trained instructors and qualified artists who have earned recognition and awards for their choreography. Don't miss your chance to dance with Premiere! Visit the Premiere Dance NJ website to see the class schedule and to register your dancer!