Premiere Dance Hillsborough Dynamics Company Dancers recently participated in their 9th Annual Valentine's Day Service Project to provide care baskets and hand-made Valentine's Day cards to cancer patients receiving treatment at the Hunterdon Medical Center.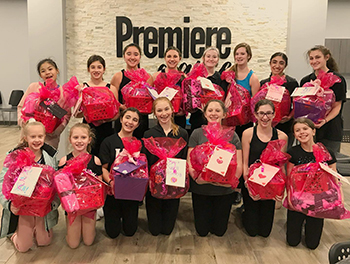 The dancers and families made donations of personal care items ranging from items such as scarves, blankets, lotion, socks, and other goodies. The Premiere Spirit Committee worked together to form and wrap the baskets, and the 2020 Dynamics Seniors and Directors hand delivered the baskets to the patients on Valentine's Day.
Lisa Burton, Assistant Director of the Dynamics Dance Company says, "The people and families who received the Valentine's gift baskets were extremely happy and thankful. I am very glad the surprise brightened their day and made it Valentine's Day a little sweeter."
Each year, the dancers and families look forward to this event where they get to give back to the community and make others feel loved. It truly is a special day where the patients get to feel loved and special during a very difficult time.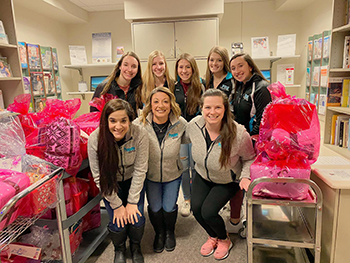 Marybeth Schwarz, member of the Premiere Dance Spirit Committee and Mom of one of our dancers, says, "I love that Premiere Dance continues this wonderful tradition that started years ago. Our dancers are very fortunate, and the Valentine's baskets gives them an opportunity to give back to those who need some brightness in their day."
Elise Flynn, member of the Premiere Dance Spirit Committee and Mom of one of our graduating seniors was able to attend giving the baskets to the patients. She said, "I've always been behind the scenes helping to create these baskets that Premiere families so generously donate. This year I had the privilege to participate in the long-standing tradition of delivering them on Valentine's Day alongside the senior dancers and staff. It was an uplifting day to watch the girls bring a smile and brighten the day of the patents receiving treatment."
Premiere Dance looks forward to continuing this tradition for many years to come, and love that they get to give back to the community and brighten people's day.